Ann Arbor, Michigan: Revisions to Summer Fest Include Publics' Picks for Outdoor Movies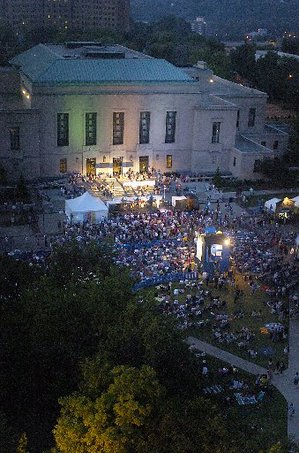 .
Longer weekend hours for Top of the Park В but no ToP on Mondays highlight some of the changes planned for this year as theВ Ann Arbor Summer Festival works to firm up its finances.
In an announcement today, the festival said it met a $50,000 year-end matching-grant challenge designed to help easeВ a difficult financial situation due to the loss of grant money and other pressures. But festival officials still aim to "do more with less" this year in order to keep the event as healthy as possible. Fewer main-stage shows В previously reported as a possibility and a new fundraising event are now also confirmed as part of the mix.
The Summer Festival is a three-and-a-half-week Ann Arbor tradition each June and July. The two primary components are Top of the Park, a no-admission combination of concerts, outdoor movies and community gathering place near Ingalls Mall at Washington Street; and a series of main-stage headline performances with paid tickets at theВ 
Power Center
and other venues.
"We definitely plan to do more with less, said festival director Robb Woulfe in a press release. We're being more creative about partnerships, and looking for new ways to engage the community in the experience. To ensure sustainability, we continue to explore ways to increase revenue and reduce expense, while also promoting greater ownership and broad-based participation from the community. One element of that participation has already begun: The festival is asking the public toВ vote on its web site for which movies will be featured in the free Top of the Park screenings this year.
The 27th edition of the festival is scheduled for June 18-July 11. As detailed in today's announcement, changes expected this year will include: Extended weekend hours and dark Mondays "Based on last year's successful introduction of earlier start times on select evenings at Top of the Park, the festival will continue to expand its hours of weekend operation with Friday, Saturday, and Sunday now opening at 5 p.m. The shift will allow the festival to focus more of its resources on high-traffic nights, providing additional time to program more artists, more activities, and more weekend attractions. This will also offer after work groups and families an incentive to have dinner at Top of the Park. The festival will go dark on Mondays, based, unsurprisingly, on the trend of low attendance and slow business activity on that evening.
"'Being closed one night each week will provide a breather for patrons, vendors, and staff to re-energize for that coming week's activities,' said Woulfe. 'For those dedicated festival-goers looking for Monday night entertainment, I encourage them to enjoy a performance or movie at one of the other great venues around town.' "
Smaller main-stage season "As attendance and revenues increase at Top of the Park, the festival recognizes the economic climate will not support as many ticketed shows as have been presented in the past.
"'As our outdoor programs grow in popularity, we don't want to split the community or our audience, but rather try to expand it,' said Woulfe. 'Although the festival will present fewer main-stage performances this year, we promise not to compromise on quality or depth of programming. We will continue to offer indoor shows that address our most popular audience interests, while utilizing a wider range of appropriate venues and partners for each program.'
"For 2010, the festival plans to again present its main-stage performances at Power Center, Hill Auditorium, and the University of Michigan Museum of Art, while also looking to introduce new and alternative spaces into the assortment of festival venues."
The new season is expected to be announced in March. New winter fundraiser: Big TOP Revue "As part of its new program launches for 2010, the festival is excited to introduce the first annual Big TOP Revue, a night of cabaret and cuisine to benefit Top of the Park. Hosted on February 16 (Mardi Gras Day) by Gratzi and La Dolce Vita in downtown Ann Arbor, the fundraiser promises to offer a saucy blend of cabaret, circus and burlesque, all choreographed around a sumptuous three-course meal followed by an underground after-party.
"The event begins at 6 p.m. with cocktails and hors d'oeuvres, followed by a seated dinner paired with fine wines and cabaret entertainment at 7 p.m., and concludes with a late-night after-party show that starts at 9:00 p.m. The Big TOP Revue is a re-interpretation of the festival's previous Chefs fundraiser, keeping a similar gourmet dining experience, but freshening it up with some great entertainment. Tickets per person are $150 all-inclusive, or $35 for the after-party only, with a portion being tax deductible. For reservations or more information, please visitВ annarborsummerfestival.org." Pick-a-Flick "Will it be Grease or West Side Story? How about Kung Fu Panda or Harry Potter? Now through March 1, the festival is asking the community to choose the movies that will be screened at Top of the Park this summer. Participants can vote for their favorites films, as well as write one in for the Wild Card choice, through a survey on the festival's website atВ annarborsummerfestival.org.
"The ballot includes titles ranging from classics and cult favorites to more recent blockbusters. Participants can vote as many times as they wish, with the winning line-up being revealed in the spring when the full Top of the Park schedule is announced."
source-http://www.annarbor.com/entertainment/summer-festival/
Join our mailing list
Get the latest outdoor cinema updates and benefits straight to your inbox